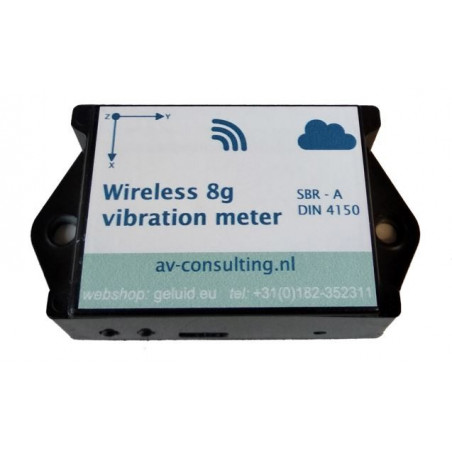  
Wireless Vibration Meter MEMS - SBR + DIN 4150
Wireless Vibration Meter for property damage Directive SBR A and DIN 4150. Complete information on the special website .
Inexpensive wireless tri-axial vibration meter for property damage SBR Directive A.
Under you can download a product specification of this page and software. Special SBR A and DIN 4150 will receive separately. By providing additional payment certificate calibration with dynamic calibration of 5 Hz - 125 Hz as shown in this example certificate .
Affordable wireless tri-axial vibration meter or monitoring system for damage to buildings. The meter works on the basis of the latest MEMS sensor and has an extremely low self-noise level of 20 um / s RMS at 1 Hz, so that the strict requirements of the DIN-4150 and DIN-45669-1 and of course the SBR directive are met A . The filters of the SBR-A and DIN-45669 are implemented in the meter. The meter comes with free software. The meter has built-in WIFI and USB and is completely encased in epoxy. 
There is also a  cloud solution for this meter so that you can monitor online via the internet. An annual subscription fee of € 160 is charged for this. See specifications below on this page download .
New feature : Now it is possible to operate the device wirelessly through your Cloud account):  https://sbr-trillingsmeter.nl/over-the-air-configuratie/ 
Renting is also a possibility, please free to contact us to learn more.
Available with many accessories (see related products below).
See our tutorial videos on our site   https://sbr-trillingsmeter.nl/