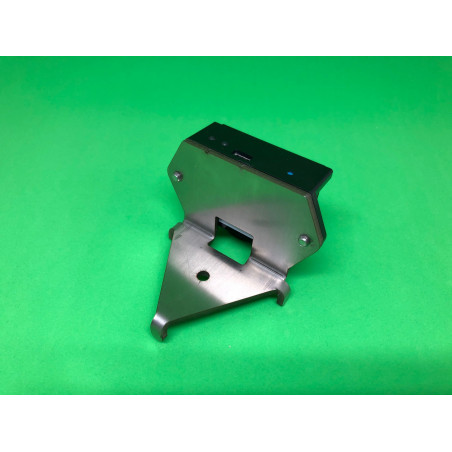  
Steel bracket for MEMS Wireless Vibration Meter
Steel bracket for MEMS Wireless Vibration Meter.
Stainless steel bracket (laser cut and CNC-bent stainless steel), specially designed to mount the MEMS Wireless Vibration Meter to uneven vertical surfaces, such as brick walls, stone walls… etc. The mount uses a single wall anchor to secure to the wall. Its 3 contact points insure an isostatic connection to the wall, and its high stiffness eliminates any modal behaviour of the vibration response. It provides a gap in front of the WiFi antenna to minimize the effect of the metal plate on the WiFi signal strength. The instrument can be mounted on the top or bottom side of the mounting plate.
The vibration meter must be mounted with the USB connector facing away from the wall.
Two bolts (metric M4,0 x 0,75) to attach the meter to the bracket the are included.