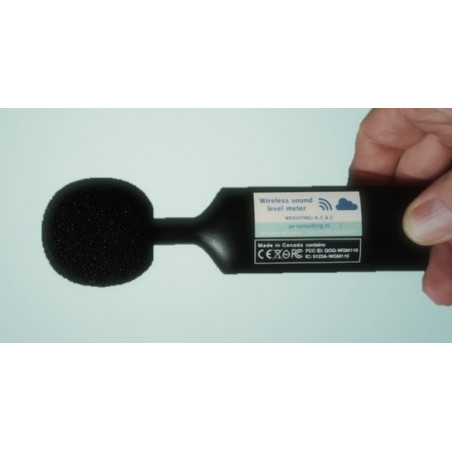  
Wireless Sound meter MEMS - Class 1 accuracy
Wireless MEMS Sound Meter dB (A), dB (Z), dB (C). 
At the bottom of this page you can download a product presentation and some test data.
The ABC MEMS sound meter works independently with a WiFi point with LAN or G4 connection . The WiFi coverage in the outside air is - according to the manufacturer - up to approx. 500 meters. We have tested up to 250 meters. Approximately 30 instruments can be registered on this. The data is sent to an IP address (your server) on which a program runs that saves the data in the background. Alarms go via e-mail, it is possible to set two different alarm settings for day / night, week / weekend etc. For the MEMS sound meters with accuracy class 1 there is also a  cloud solution for 160 euros per year ex. VAT per instrument
24/7 data collection of instruments around the world; 
No need for a dedicated server for collecting data or emails; 
Automatic instrument configuration via the internet; 
Data can be downloaded via a simple web browser anywhere in the world; 
Data can be viewed at any time in any web browser, such as PC, MAC, telephone ... etc; 
500 MB storage space per instrument; 
New feature : now it is possible to control the instrument wirelessly via your Cloud account);
https://sbr-trillingsmeter.nl/over-the-air-configuratie/
Free software package for instrument management, communication, and data processing.
Dust-proof microphone with precision that meets Class 1: IEC 61672-1: 2013 can be supplied with a secondary calibration see example certificate .
Renting is also a possibility, please free to contact us to learn more:
Available with many accessories (see related products below).
Refer to instruction videos on our site  https://sbr-trillingsmeter.nl/