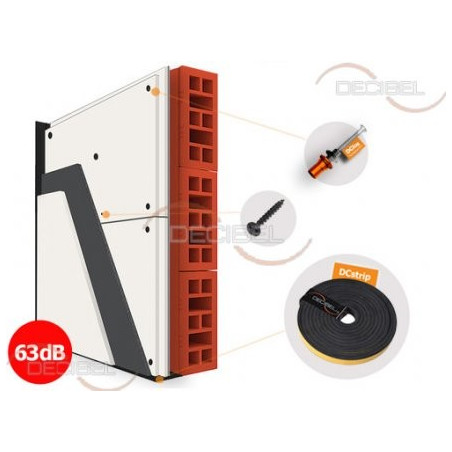  
Soundproofing wall MUTE 63
MUTE 63: A sound-insulating panel for walls with a thickness of 63 mm, dimensions 1000 x 1200 mm. Includes 5 pieces DClox, 5 pcs plugs, 5 pcs screws.
MUTE SYSTEM 63 is a thin sound-insulating walls system, developed and refined over the years by the R & D department DECIBEL.
The most important acoustic principle used in the system is a mass + spring + mass system. The DECIBEL engineers have created an extra thin and 4 times more effective system, mounted via 5 specially designed anti-vibration DClox mounting elements.
What enables DECIBEL to guarantee the quality and efficiency of the system is that the soundproofing parameters are simulated using FEM software, which is then verified by laboratory tests.
MUTE SYSTEM 63 is suitable for residential and public buildings, industrial buildings.
Technical details
Dimensions MUTE 63: 1000 x 1200 x 63 mm
Weight MUTE 63: 19.2 kg
Contact surface panel wall: less than 1%
MUTE 63 airborne noise reduction: up to 63 dB (depending on the basic construction)
Accessories for improving sound insulation
DClant - Sound and vibrating isolating seal which adds +3 dB to the system
DCvisco - Sound and vibro-isolating membrane +3 dB added to the system
Installation Videos:
Short video -  https://www.youtube.com/watch?v=YESR6X-nDB4
Long before video walls -  https://www.youtube.com/watch?v=3dG-eQKWLlU
Long video for ceilings -  https://www.youtube.com/watch?v=w7ZbmLHR4GU