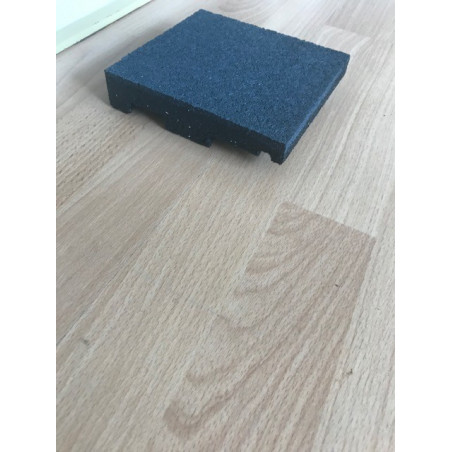  
Sound insulating Fitness Floor
Sound insulating floors for gyms and fitness etc. 
Noise and Vibration Insulating floors for sports and fitness schools
Rubber floor tiles specially designed for sound insulation and vibration isolation for example fitness schools where they work with dumbbells. 
Depending on the required noise there are tiles of different thicknesses with different insulation properties.
The floor tiles are tested with a standard noise generator and the reduction in the fall of heavy weights (unusual test). Especially the latter is important for fitness gyms.
Rubber tile 3.18cm delta Lw = 23 dB, a difference of falling weight of 11.11 kg compared to bare concrete floor with tiles - 26.8 dB (A) (91.4 cm drop height)
Rubber tile 5,08cm delta Lw = 26 dB, differential drop weight from 11.11 kg compared with bare concrete floor tiles - 37.7 dB (A)
Rubber tile 5.08cm delta Lw = 25 dB, differential drop weight of 24.94 kg compared with bare concrete floor tiles - 31.8 dB (A)
Rubber tile 6.98cm delta Lw = 25 dB, differential drop weight from 11.11 kg compared with bare concrete floor tiles - 37.0 dB (A)
Rubber tile 6.98cm delta Lw = 25 dB, differential drop weight of 24.94 kg compared with bare concrete floor tiles - 36.0 dB (A)