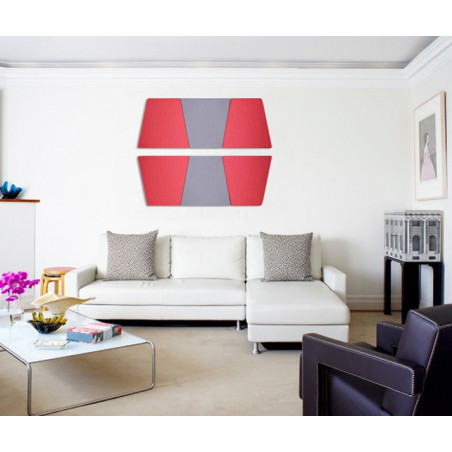  
Base sound absorbing panel
Base Acoustic panel with fabric finish is a design solution for acoustic treatment rooms.
The shape and design of the product to give everyone the chance to create different shapes and compositions on the walls in living rooms, offices or restaurants. The panels can be made to suit any interior.
Base plates have a core of technical polyurethane with a density of 18-30 and an acoustic textile finish. The acoustic textile contributes to the good sound absorption of the panels, making it the ideal solution for spaces where acoustic treatment and aesthetic vision are needed. The panels are available with a thickness of 40 mm and in 22 different attractive colors. The acoustic panels are easy to install on walls and ceilings through direct bonding.
* The acoustic panels have no sound insulating properties and are not suitable for sound insulation of a wall.
Technical details
Material: acoustic foam and acoustic textile
Color: available in 22 colors (T01 - T22 from our catalog)
Dimensions: 40 x 41 x 25 cm
Thickness: 4 cm
Weight: 0.150 kg
Installation: on walls and ceilings by direct bonding