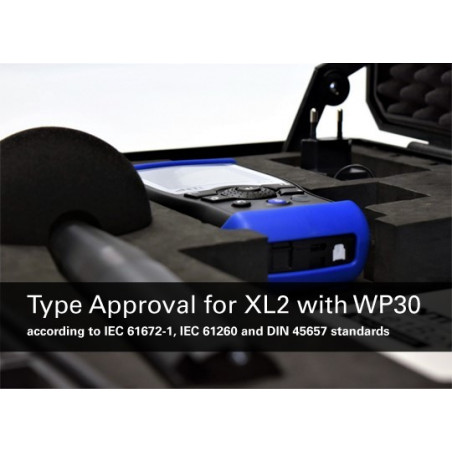  
Noise Monitoring XL2 out with class 1
PTB-approved noise monitoring kit with first-class XL2 as a permanent station for outdoor use.
From now on, the XL2-TA sound level meter and acoustic analyzer can also be used as a permanent measuring station for outdoor use. The latest firmware version V4.21 is type approved by the Physikalisch-Technische Bundesanstalt (PTB) in Braunschweig. The type approval also covers accessories, such as the WP30 weather protection kit for the class 1 M2230 microphone. The free Firmware update also offers improvements for building acoustics and consultants.
The new XL2-TA: even more versatile and comprehensive
There are many areas of application for the XL2-TA. The meter can be used with a directly plugged-in measuring microphone, extended on the cable or in the weatherproof housing. All of these configurations have type approval in Germany, Austria and Switzerland. The system meets the extensive requirements of class 1 accuracy, as stated in the current IEC 61672-1, IEC 61260 and DIN 45657 standards.
The XL2-TA (= XL2 with type approval option) has received type approval from the German PTB. The XL2-TA, together with the M2230 microphone and protective case, form a type-approved sound level meter with class 1 performance in accordance with IEC 61672: 2014, IEC 61260: 2014, ANSI S1.4: 2014 and ANSI S1.11: 2014 standard.
The type of approved configuration consists of XL2-TA geluidsniveaumeterXL2-analyzer with installed option for type approval