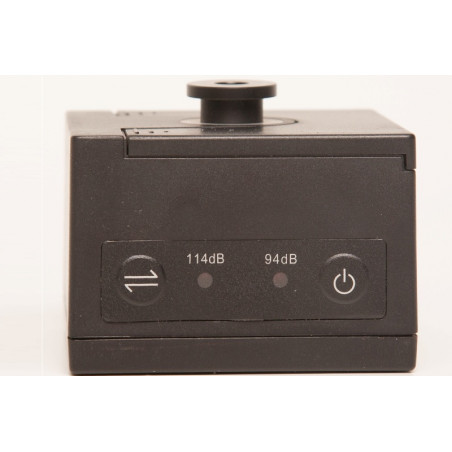  
CA111: Calibrator Type 1 94dB and 114dB
IEC60942 Type 1, adapter for1 "1/2" and 1/4 "microphones
Class 1 calibrator (according to IEC 60942 standard) BSWA In practice, the calibration of the measuring chain is of great importance. We can distinguish between a level calibration and a frequency calibration during calibration. The measuring system can be calibrated both acoustically and electrically. Almost all sound level meters are equipped with an electrical calibration system. It is good practice to acoustically and electrically calibrate the entire measurement system to compare the results of the electrical calibration with those of an acoustic calibration, in this way errors in the measurement chain can be traced. ABC has a very reliable acoustic calibrator in its program, the BSWA CA111. This calibrator is based on a 1000 Hz stabilized oscillator that produces a sound level in a small room where the microphone is inserted. The calibrator produces a noise level of 94 dB 1000 Hz and is very suitable for use in practical situations. The calibrator meets the IEC 60942-2003 class1 conditions, the ANSI.S1.40-1984 conditions and the GB / T 15173-1994 conditions.
Specifications
Conforms to IEC60942: 2003 Class 1 ANSI S1.40-1984 and GB / T 15173-1994.
1 kHz frequency calibration for all weighting networks.
Dual 94 and 114 dB sound pressure level outputs.
Calibration accuracy - +0.3 dB.
Designed with highly stable level and frequency.
Only two keypad operation.
Fits 1/2 "Microphones and 1/4" microphones with adapter.
Powered by 2xAAA battery and automatic power off to conserve battery life.
We can also provide for the calibration care of your acoustic calibrator.