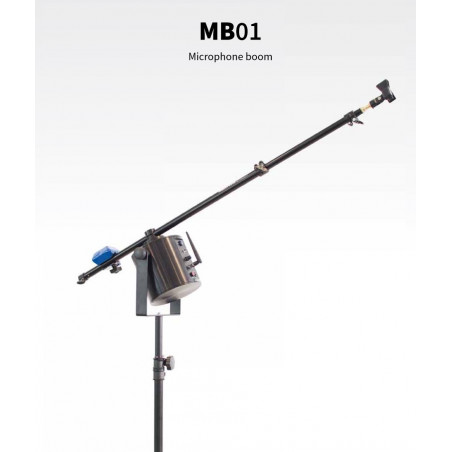  
Laboratory measuring Hengel
The MB01-Microphone boom is used to the spatial measurement of sound levels obtained by the microphone continues to move back and forth.
Rotation speed, angle and arm length are adjustable. The MB01 may be used for acoustic measurements in the lab and testing sound absorption in a reverberation room.
Rotating microphone rod for lab measurements. 
STANDARD EQUIPMENT
• remote
• Manfrotto telescopic arm
• Weight Balance
• Microphone Clip
• Tripod + Softbag for tripod and Manfrotto-arm
• 2 hex keys for attachment
• antenna
• power 110V / 220V to 24V DC
noise
• Maximum speed: 30 dB
• Average speed: 25 db
• Minimum speed: 20 db
Noise is measured in a semi-anechoic room with a microphone located 1.5 m from the main unit.