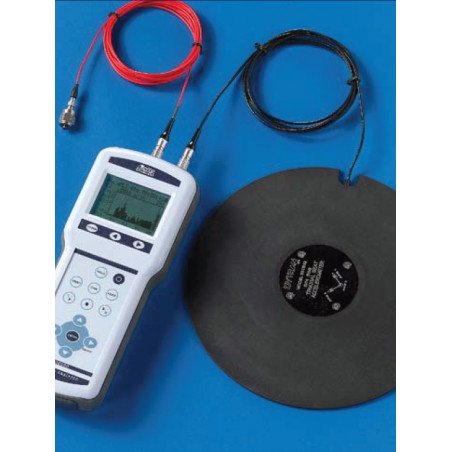  
HD2030 4 channel Vibration Analyzer
HD2030 four channel vibration meter for handarm- and body vibration meters 
Four-channel vibration meter and analyzer with the possibility time and signal recording. The vibration and sound analyzer type DELTA OHM TYPE HD-2030 is an all-digital, four-channel, 20 kHz signal analyzer including a class 1 octave or third octave band filters (to comply with the IEC 61260), and vibration meters (conforms to the ISO 8041: 2005, ISO 8041-2005, ISO-5349-1). This analyzer is suitable include handarm vibration measurement and whole body vibration measurements according to ISO standards.
Simultaneously with the level meter mode, the HD-2030 can perform advanced frequency analysis including 1/1 octave bank or 1/3 octave band analysis, FFT analysis. The vibration and sound analyzer HD-2030 is an ideal choice for the "hand arm and body vibration measurements (Human Vibration, according to ISO 2631-1,2 & 5 and ISO 5349-1 & 2 standards). The meter is offered with all required weighting filters and an extensive range of equipment for measuring hand-arm vibrations and body vibrations.The HD-2030 is a unique instrument that can perform vibration analysis in four channels simultaneously, each of the four channels can work simultaneously with an independently configured signal input (transducer type),
The very powerful measuring capacity is supported by the advanced time-history logging in the non-volatile 8 MB internal memory and 2 GB SD memory card. The DELTA OHM HD-2010 vibration meter is also equipped with a USB port that makes it possible to read the data on the PC via the free program "Noise & Vibration Studio".
Optionally, the DELTA OHM HD 2030 can be equipped with a large range of accessories. The power supply of the instrument via an external DC power source is also provided. The robust and light weight of the meter meets the special characteristics of these new vibration meters.
CHARACTERISTICS
Four channels, real-time, simultaneous vibration measurements

1/1 and 1/3 octave real-time analysis

Body vibrations / hand-arm vibrations according to ISO 8041: 2005 including VDV and MTVV

Advanced data logging with 8 MB non-volatile internal memory

SD card slot for data storage.

Time signal domain recording (option)

Advanced trigger function

USB en RS232 interface

Integration time programmable up to 24 hours

Power via 4 x AA standard or rechargeable batteries

Easy to use, hand meter, light in weight and robust

Very good value for money
Specifications HD2030 vibration meter / analyzer

standardize

ISO 8041:2005

Metermode

RMS, VDV, MTVV or MAX, Peak, Max, Min. Simultaneous measurements in four channels with independent filter

Analyzer (option)

1/1 octaaf1 real time analyse, (Type 1, IEC 61260)
1/3 octaaf1 real time analyse,(Type 1, IEC 61260)

statistical values ​​L1 - L99

Filters

Wd , Wk , Wc , Wj , Wm , Wb , Wg (ISO 2631), Wh (ISO 5439)

Accelerometer (Accelerometer, option)

HD356B41 seat recline sensor (for forklifts etc) (100 mV / g sensitivity) for body vibrations (Whole-Body measurements) And HD356A02 set for hand-arm vibration measurements (acceleration sensor 10 mV / g sensitivity) Other IEPE acceleration sensors

Measuring range

Depending on the acceleration sensor, 0.003 ms-2 RMS / 500 ms-2 PEAK (with 100 mV / g sensitivity)

Frequency range

0.5 Hz / 250 Hz octave band / 4 Hz - 2000 Hz / 0.5 - 10 kHz Depending on the acceleration sensor

BASIC DATA

Input

IEPE type (channels 1, 2, 3, LEMO 4 pin) channel 4 LEMO.

Dynamic range

80 dB, 25 bits A/D converters

Frequency range

0.5 Hz / 100kHz

Data Logger1

Time-history logging to internal memory or external SD card (option)
Time-domain signal recorder via USB Memory Stick (option)

Display

LCD 128 x 64 pixels with icons and background lighting

Memory

8 MB non-volatile flash type, external SD card (not included)

Interfaces

USB, AC ,, Out, Headphones, Mic. Trigger 

Nutrition

Four AA batteries (alkaline) Working time> 10 h (6.0 V / 1.6 Ah) 2
Four NiMH rechargeable batteries (not included) Working time> 14 h (4.8 V / 2.6 Ah) 2
External power supply (SWD 10 not included) 12 V DC / (1.0 W)

Environmental Conditions

Temperature from -54  o C to 77  o C
Humidity Up to 90% RH, not condensed

Dimensions

240 x 95 x 50 mm

Weight

680 grams with batteries

1 each function parallel to the meter mode 
2  background lighting off
10 reasons to buy the HD-2030 FOUR CHANNEL VIBRATION ANALYZER
An absolutely unique four channel, class 1, Vibration meter that complies with ISO 8041: 2005, ISO 2631-1.2 & 5 and ISO 5349-1 & 2, combining all functions of the signal to be measured: RMS, MTVV or Max, VDV, Peak, Peak-Peak, Min including Time-History Logger as an option.

Excellent instrument for body vibration / hand-arm vibration (Human Vibration, provides current, daily dose and exposure calculation) with vibration dose calculator.

USB host controlled, practically provides unlimited memory capacity of 2 GB external SC card as an option.
Exceptional function - four channels, 20 kHz band, recording time-domain signals on the external SD card.
The Delta Ohm HD2030 is supplied with four channels in real-time 1/1 and 1/3 octave band analysis including statistical function (L01-L95).
Any analysis works parallel to the meter mode.
Data can be easily downloaded to a PC or laptop via USB or RS-232 interface and the Noise & Vibration Studio software.
Very easy to use even for building vibrations. Many assesoires available.
Percentile values ​​T L1 / L99 m. Various profiles can be adjusted. 1/1 and 1/3 octave frequency, acceleration or displacement profile.
 Good value for money and support by SIT center.